The Alternative Report on the Implementation of the Anti-Corruption Strategy has been published
30 / january / 2016.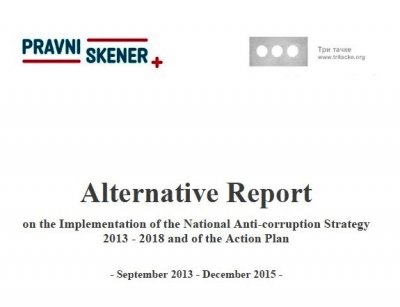 Belgrade, 30 January 2016 - The 2015 Alternative Report on the implementation of the National Anti-Corruption Strategy 2013-2018 and the National Action Plan has been published.
The overall goal of the project was to assess the fulfillment of the planned activities in accordance with the purpose for which they were adopted, more precisely to make an assessment of the compliance of the implementation of measures with the purpose of the Strategy.
The observations in the Report were made on the basis of analysis of collected data on events, measures and activities in the following chapters of the Strategy - Political Activities, Judiciary, Spatial Planning and Construction, Health, Education and Sport and Media, which were undertaken within 27 months from the adoption of the Action Plan and which had the impact on achieving goals envisaged in the Strategy and its Action Plan.
This Report also contains chapters on specific topics - circumstances or events of particular importance for (non)suppression of corruption in the Republic of Serbia. These are the Belgrade Waterfront project - Case study and (Non)adoption of spatial plans as a result of trading in influence and abuse of public authority - Case study.
The team that produced the Report is as follows: Dejan Milenkovic, PhD (chapter Political Activities), Jelena Stevancevic (chapter Judiciary), prof. Ksenija Petovar PhD (chapter Spatial Planning and Construction), Ksenija Radovanovic M. Arch. (Belgrade Waterfront project case study), Marina Mijatovic (chapter Health), Mihajlo Babin PhD (chapter Education), Milos Stojkovic (chapter Media), Andjelka Markovic, Slobodan Georgiev and Aleksandar Milijasevic (chapter Sport), Marko Ilic, Borjanka Majdevac and Jelena Golubovic. The editor of the Report is Andjelka Markovic.
The joint team of Law Scanner and Three Points produced this Report in the framework of a project supported by the Anti-Corruption Agency of the Republic of Serbia, with financial support of the Royal Norwegian Ministry of Foreign Affairs.
Download the Report in Serbian
here
.
Download the summary of findings in English below.
Download documents: